Yay I was so chuffed that someone linked my tute in here, but alas the link onto the old board for the thread appears deceased! so here we go again, with fixed links - hope its of help to someone!
Firstly we start with the hair. All KK jumbo braid, in orchid, disco pink, violet and electric blue (the uv purple was silky that i had backcombed into a pre dreads then rescued and restraightened for this fall!)
Step 1, cut the hair for we only want shoulder length falls...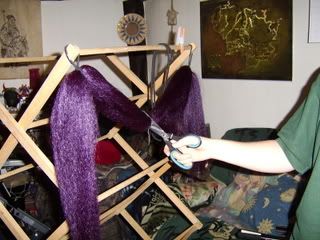 Step 2, straighten using really pants Babyliss straighteners that don't get very hot so don't melt the hair...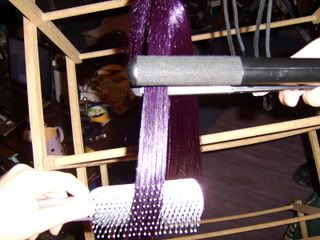 this bit was a bit awkward as each colour had its own texture and they all straightened differently. The orchid was quite delicate and went stretchy easily whereas the violet you could be quite harsh on and it came out uber sleek and shiny.
This was the overall effect once straightened: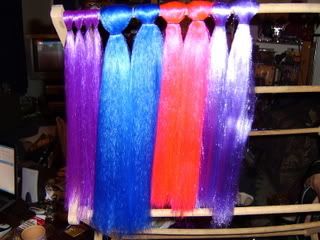 The next step was to start attaching hair! I used sections of fabric covered elastic (think the top of your knickers and you're there!) and took pencil-width sections of hair to braid onto it, braiding for about an inch then tying off with a mini elastic.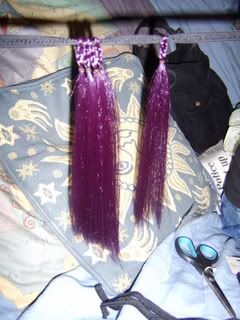 About half a bag of the kk bulk wise was used for each layer of this fall. On the first section of elastic I used only orchid braids.
The second layer was constructed from electric blue and violet braids.
The third section of elastic I braided mostly orchid hair, with a few electric blue streaks in it: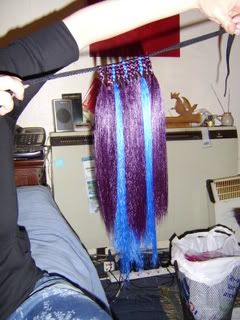 As you can see the different colours were also different lengths, but I sorted this all out further down the line
Finally the top layer had a bit of everything in it! I then organised each layer on top of each other in the order i wanted them, and cut the hair to reveal parts of the different colours underneath (used basic layering haircut idea)
Finally all ends of elastic were braided together as one to hold all the layers in place and give a nice sturdy section of material to tie round Ruth buns!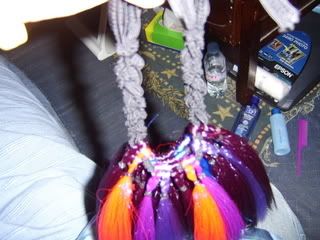 This is the final fall - I repeated all of above to make the second side so she had matching bunches! The only thing left to do was a little thinning of the hair so it looked more razored less blunt, and adding a bit of products to give a few manga-esque points to it!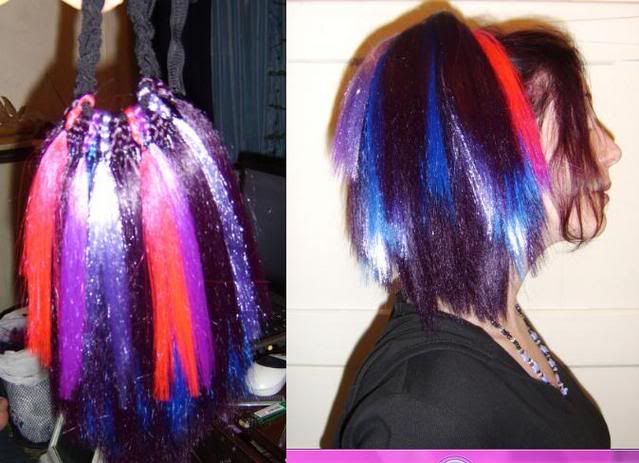 Hope I've explained this all ok - it's been clear as day in my head from the first time I thought about it but now I realise just how hard it is to voice ideas!"