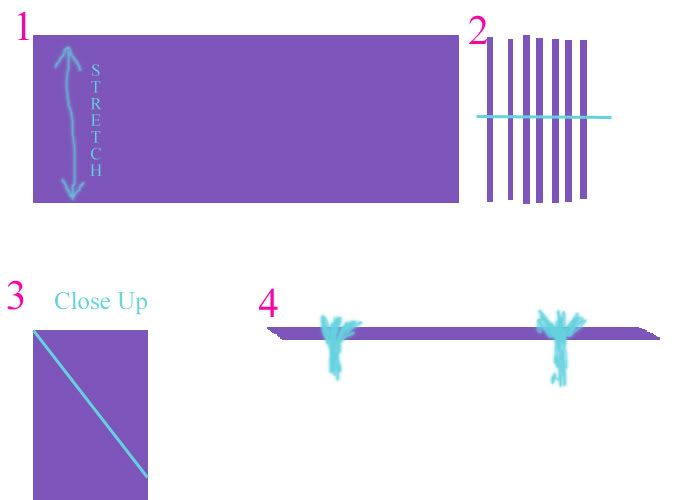 Step 1: Buy 2 yards of fleece in your preferred color. Lay it out completely flat on the floor. Notice that it stretches width wise and not length wise; it does NOT stretch the length side of 2yards, but it does stretch the width side, about 45inches. Cut strips of just over 1 inch from the whole piece of fleece. That should give you lots of 45inch long approx 1 inch wide strips.
Step 2: If you want DE dreads of about 22 inches folded (44 inches unfolded) then cut all the strips in half.
Step 3: To make the ends taper, cut 45* triangles off the ends.
Step 4: Take one strip in both hands, as I have poorly illustrated, and slowly stretch the strip. Yes this takes lots of muscle to do it correctly. Yes it will make your hands raw and burn, and maybe even some blisters. For making the tapered ends stretch with your fingers carefully, not your whole hand.
Repeat step 4 about a billion more times and you have a huge yet light set of faux-roving for installing
Also to note is that every fleece is not equal--some is more difficult to stretch and others are really easy to stretch. Black seems to be pretty rough in most brands. Patterns are usually quite easy. If you're having a hard time getting a fleece to stretch and roll over on itself, try cutting smaller strips! 2 yards will yield roughly 50 DEs.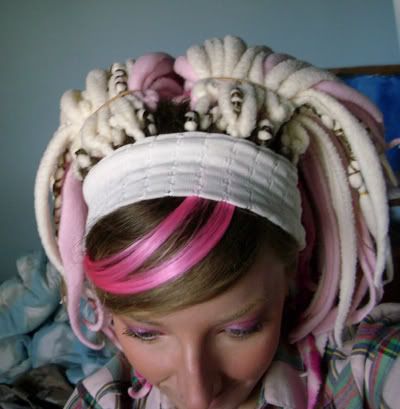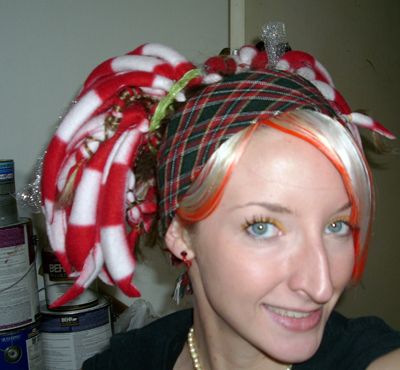 *wanted to add an install pic so everyone will know faux-roving is TOTALLY appropriate and awesome for installing