LOTS of dyeing tutorials for wool! If you've used any of these techniques for your dreads, please share any pics you have of the finished product or the process of dying.
Video on how to dye with Koolaid.
How to use food coloring/koolaid to dye unfelted wool--> kind of general, not too step by step
Step by step direction on using food coloring to dye unfelted roving
Another dyeing with food coloring, this time on wool yarn
More food coloring on unfelted wool
Excellent tut on dyeing yarn with Wilton's Icing Food Coloring; it may be yarn, but same option should apply to felted dreads. Includes details on transition dying!
Fantastic tut with MULTIPLE methods on rainbow dyeing
Wilton food dye advanced color mixing chart
How to combine Food Coloring and Kool-Aid to make different colors! Really great
____________________________________________________
In addition to the above tuts, I've made up my own short tut without pictures. Basically my tut is an assembly of the reading and re-reading of the tuts from above.

#1 Soak the dreads for half an hour in a water/vinegar mixture. 3 parts water to 1 part vinegar.

#2 In a see through container with water, get your food coloring to the right color you want (especially if you're mixing food colorings).

#3 Put food coloring mix into pot on stove and begin heating to a boil.

#4 After the half hour of pre-soaking, squeeze out the dreads and plunk them in your boiling dye.

#5 Now add enough water to cover the dreads, turn the stove to warm.

#6 Stir stir stir! (I didn't do this, hence the splotchyness below.)

#7 When water is clear, take dreads out of hot water and let cool in bowl.

#8 Rinse in tap water that's the same temp as the dreads until water runs clear.

TADA! Dyed roving. It sounds more complicated than it is...
____________________________________________________
FAQ:
#1 Tanya.lou asks: "
Would you be able to use the food colouring method on already felted undyed roving/dreads?
"
Jane Doe answers: "Yep, and it certainly works a treat. "
I know that these tuts do not directly apply to our felted dreadlocks, but I think any of them would be able to be translated to felted dreadlocks. Also, it is of course totally feasible to pre-dye your roving before felting into dreads.
For instance: I want white dreads with a watercolor like purple stripe in the middle. What do I do? Well precut your roving into the appropriate length strips and paint dye them like the rainbow dyeing method. Then, when you go to felt them, the purple will already be in the middle. TADA!
#2 Question:
Where do I get these food dyes?
Answer: You can usually start local by checking the supermarket. Food dyes are usually kept either by the spices or by the cake supplies. Most supermarkets will supply basic colors--blue, yellow, green, red. If you want more colors, stop by a shop which you know sells massive amounts of cake supplies. Often times party supply stores and wedding stores will stock a large range of food colorings. Still can't get what you want? Go online!
Click here to buy direct from Wilton food colorings!
Very nice color selection. Also don't forget that these colors are easy schmeezy to blend and create new colors
#3 Question:
But how do I dip dye my already felted dreadlocks?
Answer: You will need to build a scaffolding from a coat hanger and books to keep the dreads up out of the dye mixture. (Bad illustration follows.) With this method you could get an awesome graded affect by starting with most of the dread in the pot and then adding books to the sides so the dread slowly raises up. The parts in the pot the longest will be dark, and the parts in there the least amount of time will be very light.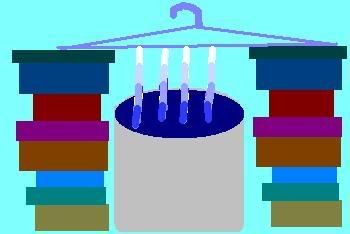 NOTE: If anyone has used these tuts and has pics to share let me know and I'll stick them up here--please describe your method too so we can know. Also, if you have any tips/hints about how to mix the food colorings for desired in between colors (like turquoise, mint green, fuschia, pumpkin, etc) please please please let us know!
Food Dye Mixes Chart:
Monster Flesh Green = 14 parts yellow to 3 parts green
(click here to see picture)
Kelly Green = 5 parts green to 1 part blue
(click here to see the color)
Orange = made from Wilton's paste "Orange" color
(click here to see the color)
Pumpkin = made from Wilton's paste "Ivory" color; heavy use
(click here to see color)
Baby Blue = made from generic, liquid, dropper "Blue" color; two drops only
(click here to see color)