I wasn't sure if this went in Roving and Wool or Extended Dreadlocks, so if this is in the wrong place, feel free to move it. Please have *some* experience with crocheting before attempting, or at least know what a chain, single crochet and a round are. There are wonderful tutorials on youtube to teach crochet. If you are familiar with amigurumis, this should be a breeze.
You will need: Skein of yarn, size G/6 or 4.25mm crochet hook, scissors, safety pin or bobby pin (optional) and fiber fill (optional)
Rnd 1: Ch2, sc 6 in first ch, place marker (safety pins and bobby pins work great). I didn't count my rounds, so the markers aren't in the photos.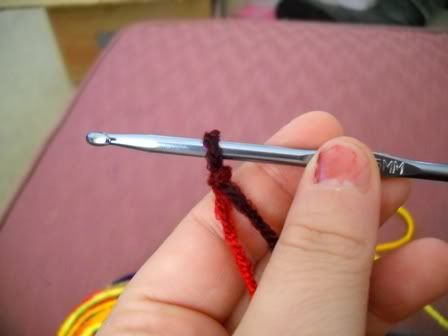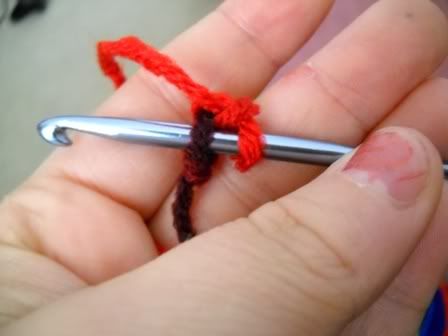 Rnd 2: Including marked ch, count back 6 chains to find first ch. Sc in first ch. This makes the project round like a tube. Sc in each ch including the one with the marker. Move the marker up to the st you just made. This completes a full round.
If you want, you can count your rounds to ensure your dread is the same length on both sides, or you can eyeball it. If you don't want to count your rounds, just keep doing sc in each chain until you get the desired length of dread. Or, you can keep track of how many rounds you do moving your marker up with each completed round. Either way, make sure your work looks similar to the pictures.
After you've done a few rounds, you should have a little finger hat going on, like in the pic.
Counting rounds or not, just keep doing single crochets and you will gradually have a tube going on. Once your tube is about 2" or 5cm, you can start stuffing with fiber fill. The fiber fill is optional. The dread will look great with or without it, the fill just gives the dread a little mouldability. Keep in mind this also makes the dreads much heavier.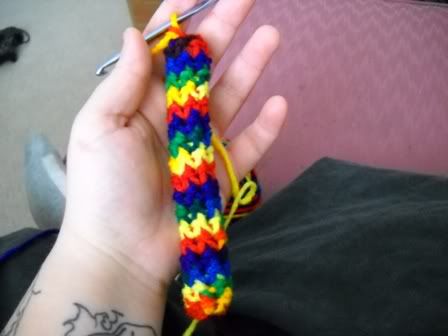 As your dread gets longer, you may need to use your crochet hook to pull the fiber fill into the dread. You can also use the hook to tug lumpy spots smooth. When doing this, don't try to pull your hook back out because fiber fill will come with it. Stick it through the other side of the dread and pull it out that way. Eventually, you will reach the length you desire for your dread. If you are using fiberfill, make sure the dread is stuffed well to this point.
(How to Sc2tog) Insert hook into ch, draw up loop. Insert hook into next ch, draw up loop. There should now be 3 loops on your hook. Draw yarn through all 3 loops. That's how to single crochet 2 together (sc2tog).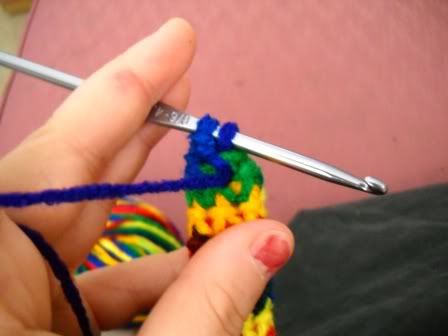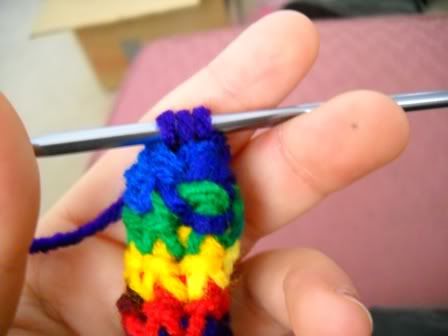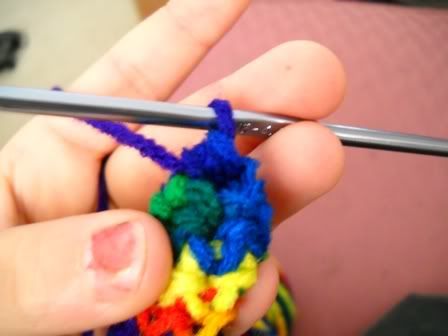 Sc2tog, sc, sc2tog, sc. Your tube is now 4 sts around instead of 6. Sc around until you have a skinny tube 2-3" or 5-8cm long. DO NOT STUFF THIS PART!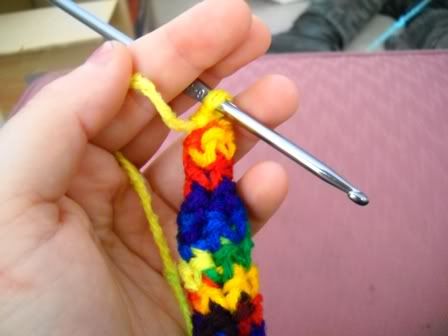 Now to make the other side of the dread….
Sc 2 in the same ch, sc in next ch, sc 2 in the same ch, sc in next ch. Your tube is back up to 6 sts around. (If using fiber fill) Sc around for a few rounds, then pinch the skinny tube right above the widening. Stuff firmly.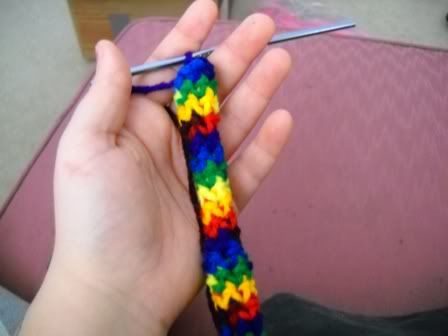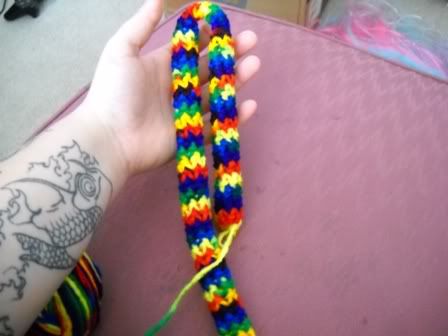 Continue sc around until desired length is reached, stuffing along the way if fiber filling.
To finish off, (stuff end super tight), then sc2tog, sc2tog, sc2tog, secure knot and bind. Use your crochet hook to fluff inner filling to the end, then YAY! You have a completed crocheted double ended dreadlock!