Hi everyone! I haven't posted in a very long time but I have a question about making clip in hair extensions from wefted hair, and figured this would be the place to ask.
I have made and used clip in extensions before and I almost always use this method (the normal method? lol):
aka big pieces in the back, two medium pieces on each side of the head, and small single clips just to put wherever. The amount varies depending on how short my hair is but that's basically what i always do when I sew in clips.
I'm wondering- are there any down sides to creating a single VERY long clip to use as a base? I'm talking like 14+ inches, a single really long piece that would clip from basically one side of the head behind the ear to the other. I've seen pieces like this made before for adding bulk to hair but it's always just the one piece and not used in addition to all over clip in extensions.
Would it be feasible to have one really long piece as the bottom (instead of two or three "large" pieces) and then the two medium pieces on the side and small pieces wherever? or is there a really obvious reason i'm overlooking that would make this bad/impractical?
like this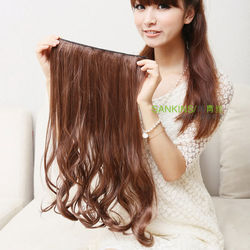 but then a few more clips layered on top.
i currently have a pixie and I made a "test" piece like that and it blends SO much better but before I committed to sewing on all the clips (it takes me ages) i thought i would ask and see if maybe it's a waste of time/a bad idea!
the only thing I'm thinking about is maybe the weight would be too much? but i used to wear full heads of braided in dreads so i'm pretty used to that and it doesn't bother me too much
but maybe something else? any thoughts or input are greatly appreciated, thank you so much!