I've found pictures all the way back from when I was in my very early teens. Oh my lord, some of the looks I went for are absolutely horrific....
This is me at the grand old age of 13, and believe it or not, that is my natural hair colour
And oh my god, this picture is absolutely horrific...
I decided I hated my natural colour, and begged my mum to dye my hair a darker colour~:
My make-up... oh my god...
Then on a school trip to Italy, I decided to be a complete rebel and dye my hair with Stargazer's red (can't remember the exact shade) it tinted my hair, but didn't really work... Not very exciting.
...and then being the absolute idiot I was I decided to mix a permanent and temporary dye together *sigh*. I didn't even manage to cover all of my hair and ended up with this: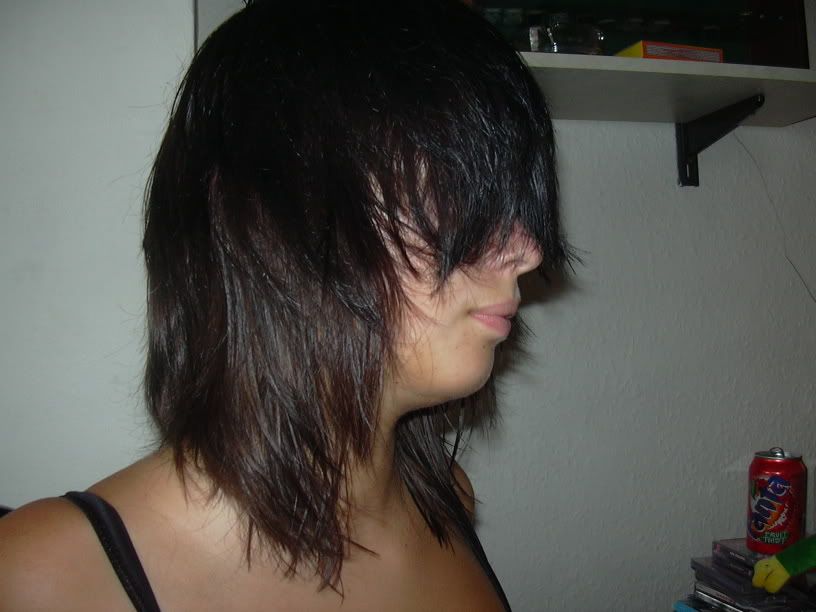 My parents, being absolutely horrified, decided to take me to the nearest salon and "normify" me, for my 14th birthday. (this is a pic where it had grown out quite a bit)
I then decided I was going to cut all my hair off and start growing it again...
I grew my hair for about a 8 months, then AGAIN managed to ruin my hair with black dye and bad application
It was around this time I started to get interested in hair, and found many forums and sites to do with hairy goodness, and I started to care more for my hair. I went to the nearest salon and got my hair fixed into a mullety...type...thingy
I then decided to get an a-line bob, before it was in fashion... apparently.
Being bored of having longish hair, I decided to get it cut off and after just turning 16 decided to get pierced.... I found out I was 6 months pregnant two weeks later...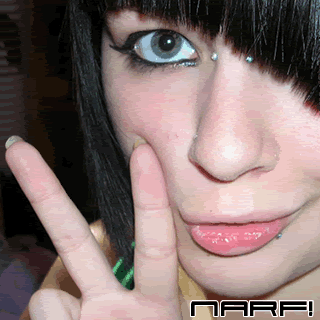 I kept this cut all the way through my pregnancy, I added in extensions of blue and baby pink at one point but didn't get pictures.
After being ridiculously ill after having James, I decided to dye my hair purple.
Then, falling in love with hair... it was from this point I started to create my own style with my hair. First with pink/purple.
Staying with purple/pink I went for an asymetric bob and fringe
Which then became a straight fringe
Which I then let grow out
Annnnd then I decided to cut my hair off and go purple and dark brown
A few months later I moved out for the first time and found the joy and wonder of SFX
which faded out to a browny colour
Now at the age of 18, I decided my hair was boring. And got a salon to dye the front red.
Which actually turned out to be a disaster, my hair snapped off at the front, so I cut it all off and dyed it all pillarbox red
Cut off some more...
then cut off even more
went purple and decided to let it grow
I hated having dark hair, and went orange again, shaved off one side...
Then shaved the other side...
Then went back to purple.. with blonde for my 19th birthday
I kept it like this for 3 months until it had grown a bit, then went orange again...
I stayed orange a total of 5 months, got bored and bleached my hair
and went blue
then red
Then I dyed it a brighter red, and cut myself in an asymetric fringe
I tipped the ends at the back orange (only picture where you can actually see)
theeennn.... got bored and cut it all off
Then cut even more off...
Then hawked it...
And put purple through the fringe
Then decided to grow it, and dyed it a darker shade of red:
Keeping my undercut, it has been like that for 3 months, until I got bored, bleached my hair last week, and dyed it what it currently is.
Hope you enjoyed that, I certainly did... brought back a lot of lovely (and not so lovely) memories!